Dr. Rajendra Prasad (Hindi: डा॰ राजेन्द्र प्रसाद) (December 3, 1884 – February 28, 1963) was the first President of the Republic of India .
He was an independence activist and, as a leader of the Congress Party, played a prominent role in the Indian Independence Movement. He served as President of the Constituent Assembly that drafted the constitution of the Republic from 1948 to 1950. He had also served as a Cabinet Minister briefly in the first Government of Independent India.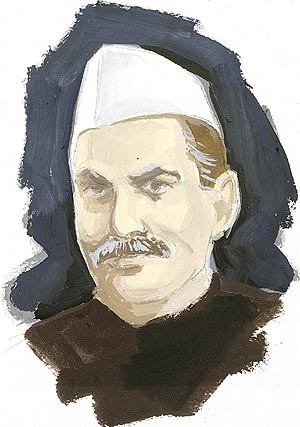 Personal life and background
---
Prasad was born in
Zeradei
, in the Siwan district of Bihar near chapra. His father,
Mahadev Sahai
, was a Persian and Sanskrit language scholar; his mother,
Kamleshwari Devi
, was a devout lady who would tell stories from the Ramayana to her son. At the age of five, the young Rajendra Prasad was sent to a
Maulavi
for learning Persian. After that he was sent to Chhapra Zilla School for further primary studies. He was married at the age of 12 to Rajvanshi Devi. He then went on to study at R.K. Ghosh's Academy in Patna to be with his elder brother Mahendra Prasad. Soon afterward, however, he rejoined the Chhapra Zilla School, and it was from there that he passed the entrance examination of
Calcutta University
, at the age of 18. He stood first in the first division of that examination. He joined the Presidency College in 1902. His dauntless determination towards the service of nation was joined by
Bihar Kesari
Dr. Sri Krishna Sinha and
Bihar Bibhuti
Dr. Anugrah Narayan Sinha who came under his tutelage He passed in 1915 with a Gold medal in Masters in Law examination with
honors
. He went on to complete his Doctorate in Law. Prasad used to practice his Law & studies in Bhagalpur (Bihar),and was a very popular and eminent figure over there during that ceremonius era.
During the Independence Movement
---
Rajendra Prasad was drawn into the
Indian freedom struggle
soon after starting his career as a lawyer. During one of the fact-finding missions at Champaran,
Mahatma Gandhi
asked him to come with volunteers. Rajendra Prasad was greatly moved by the dedication, courage, and conviction of Mahatma Gandhi and he quit as a Senator of the University in 1921. He also responded to the call by the Mahatma to boycott Western education by asking his son
Mrityunjaya Prasad
, a brilliant student to drop out of the University and enroll himself in
Bihar Vidyapeeth
, an institution he had along with his colleagues founded on the traditional Indian model.He wrote articles for
Searchlight
and the
Desh
and collected funds for these papers. He toured a lot, explaining, lecturing and exhorting. He took active role in helping the affected people during the 1914 floods that raged in Bihar and Bengal. When the earthquake of Bihar occurred on January 15, 1934, Rajendra Prasad was in jail. During that period, he gave the entire responsibility on his behalf to his close colleague and eminent Gandhian Dr. Anugrah Narayan Sinha.He was released two days later. He set himself for the task of raising funds. The Viceroy had also raised a fund. However, while Rajendra Prasad's fund collected over 38 
Lakhs
(Rs. 3,800,000), three times of what the
Viceroy
could manage. During the 1935 Quetta earthquake, when he was not allowed to leave the country, he set up relief committees in Sindh and Punjab.
He was elected as the President of Indian National Congress during the Bombay session in October 1934. He again became the President when Netaji Subhash Chandra Bose resigned in 1939.
Presidency
---
After India became independent he was elected the President of India. As the first President, he was independent and unwilling to allow the Prime Minister or the party to usurp his constitutional prerogatives. However, following the tussle over the enactment of the
Hindu Code Bill
, he moderated his stance. He set several important precedents for later Presidents to follow.
His sister Bhagwati Devi died on the night of 25 January 1950, a day before the Republic Day of India. She doted on her dearly-loved younger brother. It was only on return from the parade that he set about the task of cremation. In 1962, after 12 years as President, he announced his decision to retire. He was subsequently awarded the Bharat Ratna, the nation's highest civilian award.
Death
---
In September 1962, Rajendra Prasad's wife Rajavanshi Devi passed away. The incident helped in the deterioration of his health and after suffering from brief illness for around six months on February 28, 1963, Dr. Prasad expired. Rajendra Prasad spent the last few months of his life in retirement at the Sadaqat Ashram in Patna.
References
---
http://en.wikipedia.org/wiki/Rajendra_Prasad
http://www.culturalindia.net/leaders/rajendra-prasad.html
Ratings Result
Score: 0.0, Ratings: 0